Net Zero means reducing greenhouse gas (GHG) emissions as much as possible while any remaining emissions are balanced out by GHG sinks such as trees and oceans.
The United Nations Paris Agreement set the target to reduce global emissions by at least 45% to keep global warming down to 1.5°C by 2030.
However, with the current state of corporate emissions and despite ongoing decarbonization efforts, there is still much confusion around Net Zero, what it is and how we can reach it.
Let's take a deep dive into climate science and discuss Net Zero carbon emissions once and for all.
What are Net Zero emissions?
Net Zero means bringing the net production of greenhouse gas (GHG) emissions to as close to zero as possible while any remaining emissions are re-absorbed by nature. On a corporate level, this can be achieved by reducing scope 1, 2, and 3 emissions and offsetting all those that can't be avoided.
Net Zero is not the same as "no more GHG emissions at all", but rather that the sum of all emission sources and sinks around the world are evened out.
There will likely always be emissions and that's okay. The goal is rather to ensure a balance in nature.
For you and your company, this means any of your scope 1, 2, and 3 GHG emissions that cannot be avoided or reduced should instead be offset by other means. For example, by supporting reforestation projects or investing in renewable energy projects.
Carbon sinks and sources
According to the GHG Protocol, greenhouse gases include Carbon Dioxide (CO2), Methane (CH4), Nitrous Oxide (N2O), Hydrofluorocarbons (HFCs), Perfluorocarbons (PFCs), Sulphur Hexafluoride (SF6), and Nitrogen trifluoride (SF3).
A carbon sink is anything that re-absorbs carbon dioxide and other greenhouse gases from the atmosphere and stores them.
Natural GHG and carbon sinks are forests, oceans, rocks, seagrass, and polar ice. That's why it is important to prevent the melting of the polar ice caps and prevent rapid deforestation of our planet's rainforests.
Typical artificial sources of such GHG emissions are industrial processes such as burning fossil fuels, agriculture, and other human activities.
On the other hand, there are also natural sources such as volcanic eruptions or animals. However, research has shown that human emissions by far have the largest impact on global warming.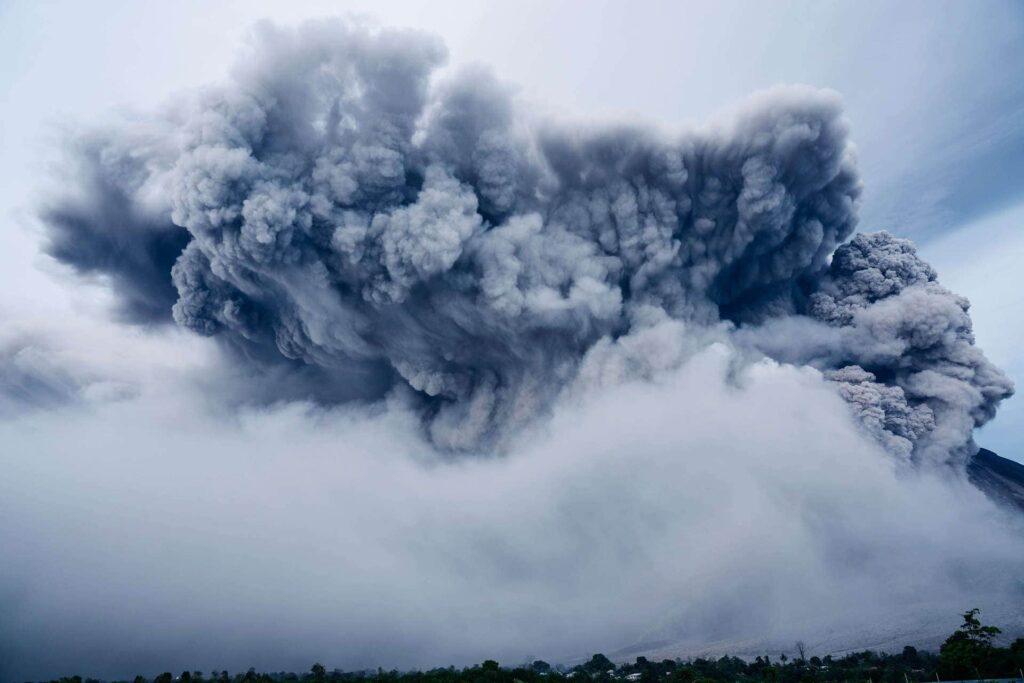 Why is Net Zero important?
Science tells us that the effects of climate change worsen with increasing greenhouse gas (GHG) emissions and that global warming must be limited to 1.5°C above pre-industrial levels. In order to prevent catastrophic effects on our planet, global GHG emissions must be reduced by 45% from 2010 levels by 2030.
Net Zero and global reduction of GHG emissions are crucial to ensure that our world remains livable.
We can already see the ongoing effects of global warming on our planet such as the melting of polar ice caps, more floodings due to rising sea levels, and a rise of global temperatures by more than 1.1°C since the 19th century.
The Intergovernmental Panel on Climate Change (IPCC) and the United Nations Paris Agreement have declared that we need to reduce global net anthropogenic carbon dioxide emissions by 45% from 2010 levels by 2030 and reach net zero by 2050.
There are additional targets for methane (to be reduced by 30%) and the remaining greenhouse gases.
Getting to Net Zero also financial benefits for businesses such as increased customer loyalty and reduced financial impacts from climate change.
How can we reach Net Zero in the world?
Reaching Net Zero sooner than later sounds great in theory. However, how can we actually achieve this ambitious, yet necessary goal?
Reduced global emissions from business operations
Just 100 companies are responsible for about 71% of global emissions and industrial processes and businesses account for the majority of climate pollution in the world.
We need to focus on sustainable business practices and GHG emissions reductions along the entire value chain.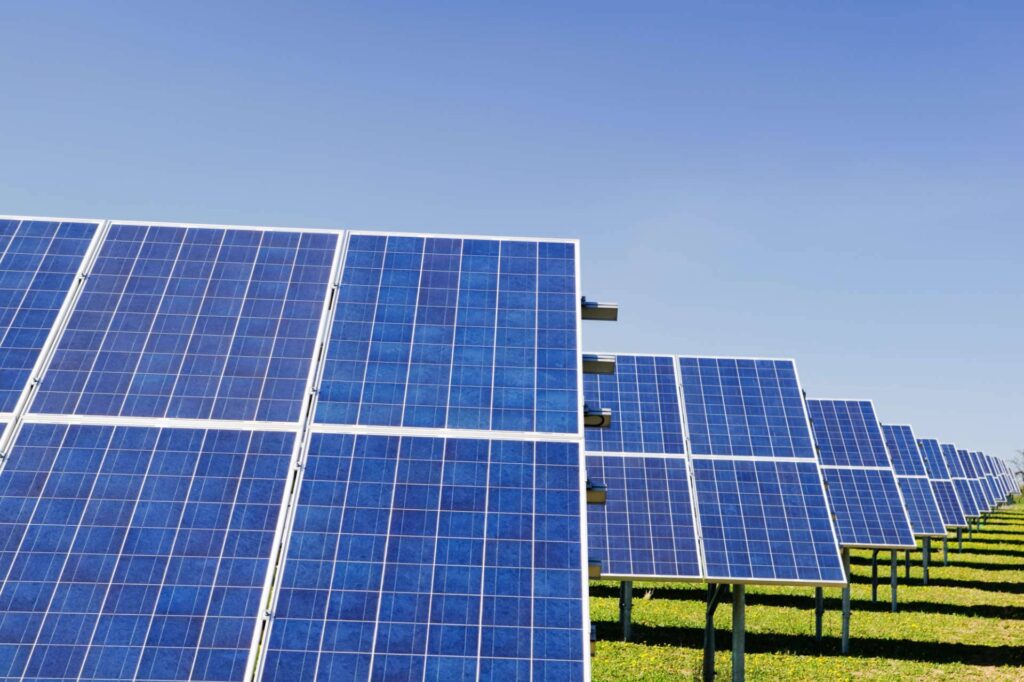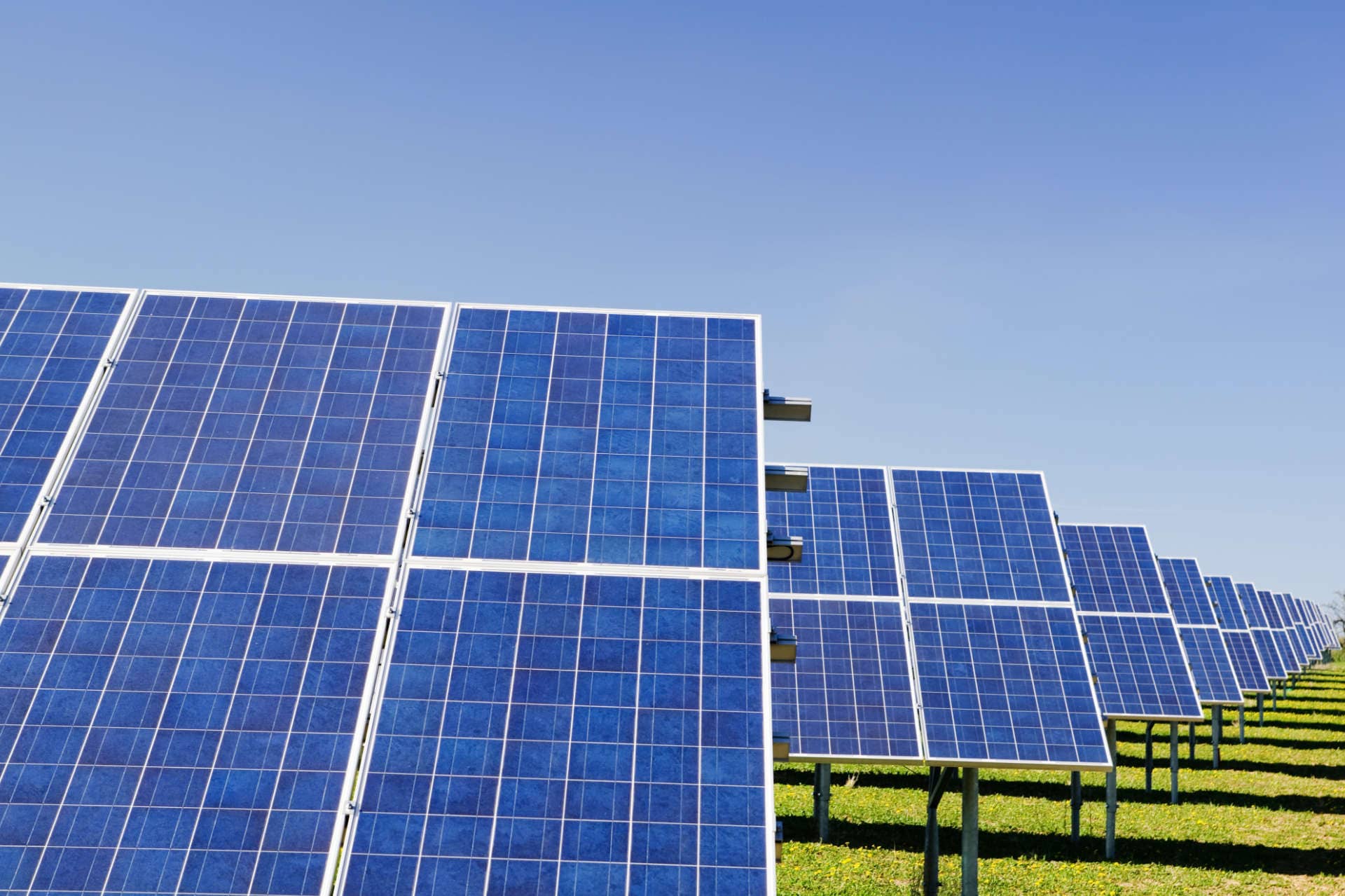 This includes saving electricity, switching to renewable energy sources, and implementing sustainable product development. Other measures include using less plastic in production and improving the efficiency of our sold goods and services.
Changed consumer behavior
Consumers and private households are those who can directly influence global GHG emissions through their purchase decisions and investment in green products.
In addition, there are several ways how consumer behavior can lead to reaching Net Zero by mid-century:
Switching to renewable energy providers
Reducing air travel
Using public transportation and car sharing
Spending more on green products
Voting for political actors who support climate action
Government policy changes
Governments need to lead the way in our global climate action efforts by putting effective regulations and laws in place that limit global greenhouse gas emissions.
Such policies must provide additional market-based incentives to drive significant reductions in emissions.
Rewarding green tech companies and imposing penalties on those who fail to comply with emissions reduction targets are other measures of how governments can help the world reach Net Zero.
Decarbonization Projects
For our atmospheric GHG balance, it is irrelevant where emissions happen and where greenhouse gases are re-absorbed. This is great because it allows us to invest in decarbonization projects anywhere around the world if certain measures are not possible at our location.
For example, a business located in Europe could invest in a reforestation project in South America, thereby taking a step toward corporate Net Zero.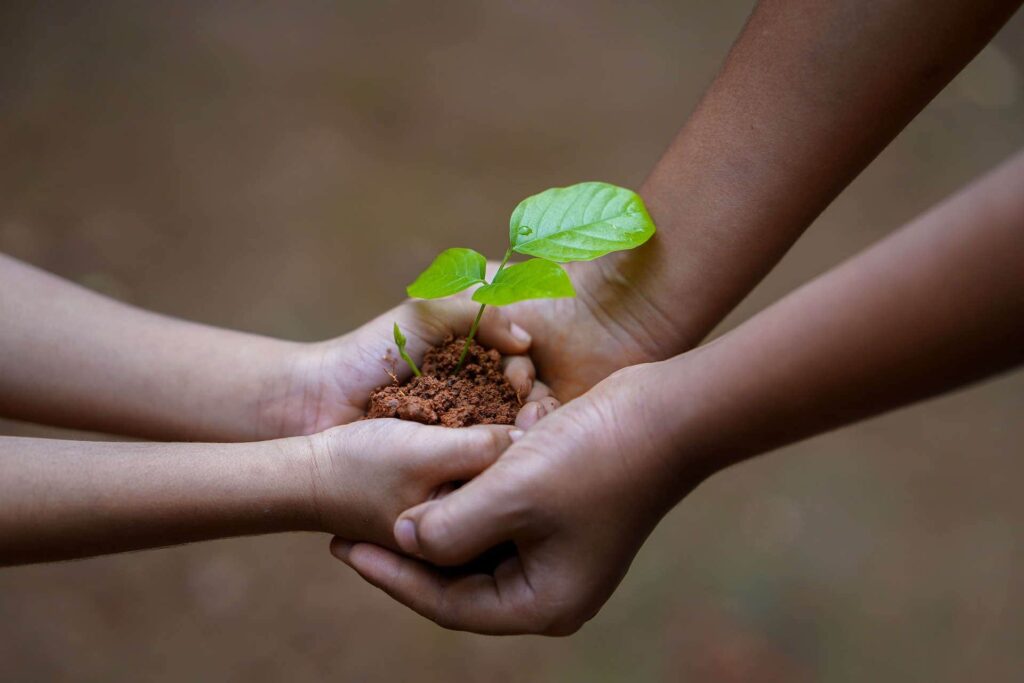 While reforestation or "plant a tree" projects are popular and widespread measures companies take nowadays, there are plenty of other options such as coral reef planting, clean water initiatives, or recycling projects.
Is reaching Net Zero realistic?
As of now, reaching the Net Zero goal by 2050 appears to be unrealistic due to a lack of initiative and actual GHG reductions by governments and organizations. However, it is still possible to achieve our goals if all of us take responsibility and act accordingly.
While our current global decarbonization efforts are not nearly enough to achieve net zero by 2050, we can also look at examples of where global initiatives have been successful.
For example, the ozone hole in the Northern hemisphere initially caused by human-made chlorofluorocarbons (CFCs) appears to be closed. This was possible due to the banning of these chemicals in refrigeration units around the world.
Below, you can see how the concentration of these CFCs is declining gradually every year after a steep rise in the 1980s and 1990s.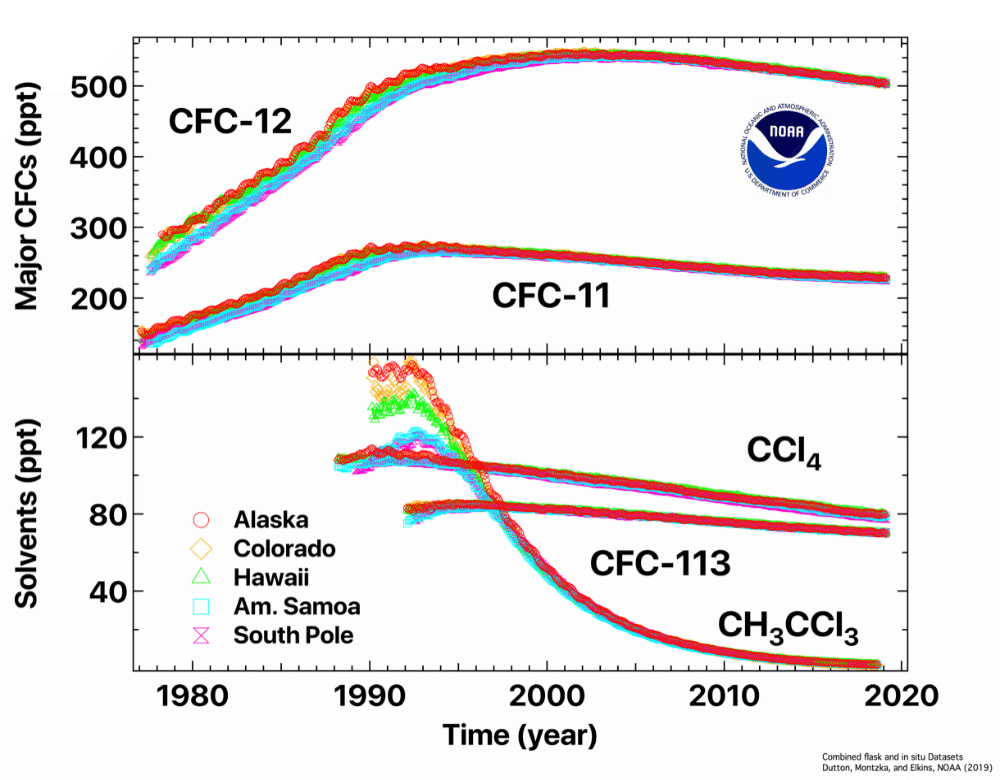 We are positive that the global community can achieve the same in regard to GHG emissions and reach Net Zero by 2050!
Science-Based Targets Initiative for Net Zero
More than 4,000 companies and financial institutions, as well as 2,500 governmental and educational organizations now work with the Science-Based Targets Initiative (SBTi).
These targets can help structure the decarbonization efforts of businesses and verify them, too.
They are also designed to be aligned with climate science and limit emissions in a way to limit global warming to 1.5°C.
Setting SBTi-compliant climate targets is a five-step-process:
Commit to setting a science-based target with SBTi
Develop an emissions reduction target in line with the SBTi's criteria
Submit your reduction target for validation
Communicate your target with your stakeholders
Disclose company-wide emissions and track your progress
If you want to read more about the SBTi, check out our guide on setting science-based targets!
While it is possible to set your own targets and take climate action, the SBTi is a proven and reputable way to manage your company's path to Net Zero.
Using ESG software like Reegy allows you to automatically track your emissions and set science-based emission reduction targets.
How to achieve Net Zero in my organization?
Becoming a Net Zero company is and should be one of your organization's top priorities.
Not only are you actively helping to preserve our planet, but your customers, employees, and investors care about it.
The first step to your corporate Net Zero target is to commit to it.
Ensure that everyone within your organization is aware of your efforts and align your corporate strategy accordingly.
Employee participation and communication are critical to becoming a green company. Only if your employees identify with your Net Zero target you can hope to achieve it, too.
After that, define clear goals and targets, for example by using SBTi's criteria or others set by your sector.
Now it's time to measure, track, and analyze your emissions inventory. A carbon footprint management software solution like the Reegy Eco Hub can make this part much easier and cost-efficient.
With your science-based target set and the data from your carbon footprint management software, you can create a detailed emissions reduction strategy and implement it.
Regularly validate and verify your progress to ensure your target is still in reach.
Why you should use carbon footprint management software to reach Net Zero
Getting to Net Zero is not an easy task. However, a dedicated carbon footprint management solution can take a lot of the heavy lifting off of your shoulders.
Here are a few things a good software like Reegy's Eco Hub can do for you:
Provide a central location for your company's ESG efforts
Automatically track and analyze your GHG emissions data
Track your Net Zero target progress
Automatically create GHG emissions reports for stakeholders & regulators
Help you offset your excess GHG emissions
Gather scope 3 emissions data along the entire value chain
Facilitate employee participation in your ESG efforts
Check out our solutions for a variety of sectors and industries and see how we can improve your ESG efforts in no-time.
Book a demo and get started with reaching Net Zero today!
©2023 Reegy. All rights reserved. The content presented here is the exclusive property of Reegy and may not be copied or distributed, in whole or in part, without the express permission of Reegy.
Reegy is a complete software solution for ESG & Carbon Footprint Management. Our Reegy Eco Hub enables enterprises, financial institutions and governmental organizations to manage their climate action in one central location along the entire value chain. Track, measure, reduce, and offset your carbon emissions, disclose them to regulators, stakeholders, and customers and lead your company to Net Zero on autopilot!