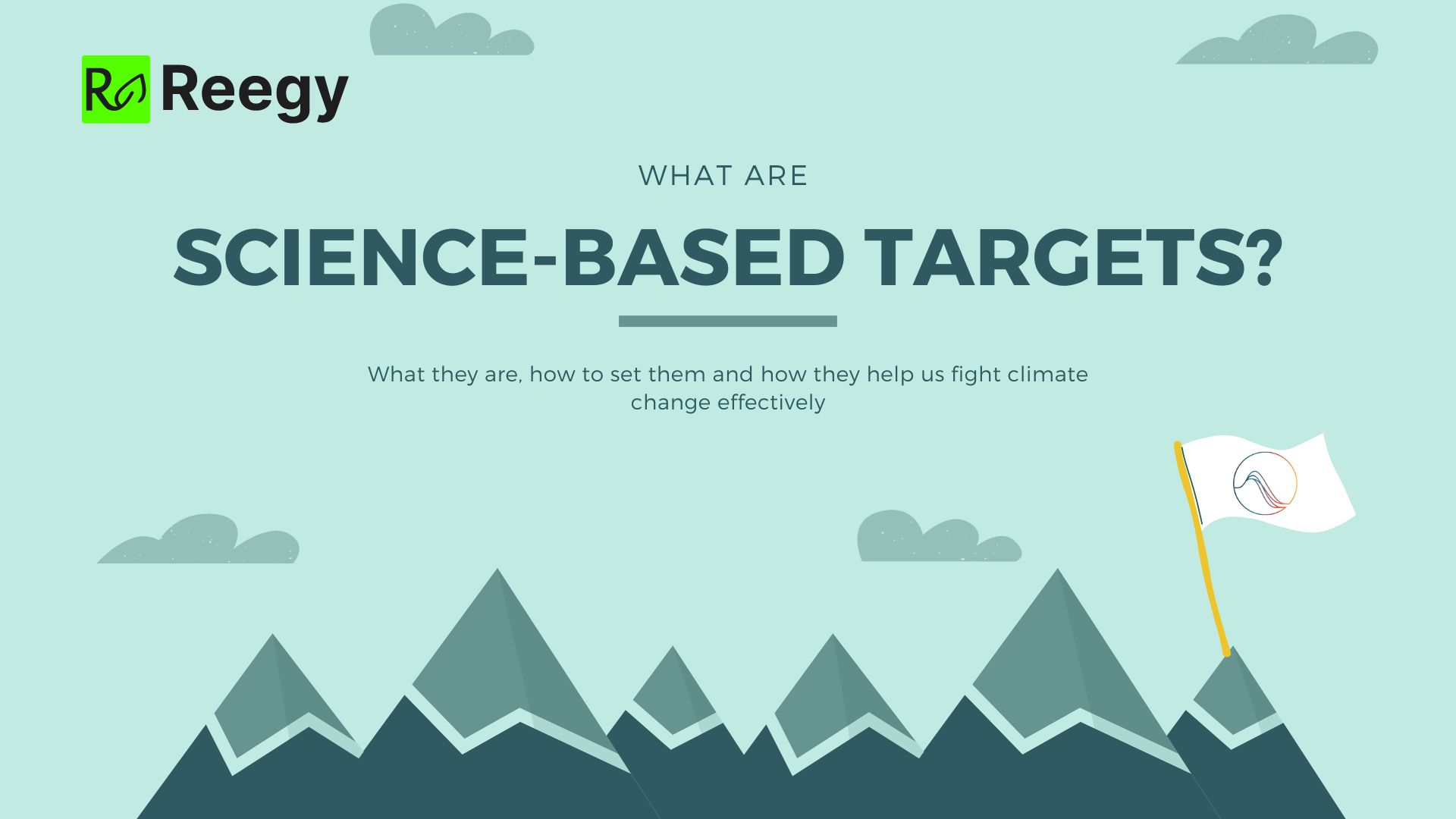 If you have been looking for ways to decarbonize your company and help fight climate change, you have probably come across the Science-Based Targets Initiative. Among new carbon accounting and disclosure mandates, it is one of the most prominent instruments in the toolbox that have emerged in recent years to tackle global warming.
1,000s of companies around the world use it to set up ambitious climate programs and validate their achieved reductions. Unfortunately, getting started can be a bit complicated, especially if you don't yet have a structured climate program, yet.
In our guide, we'll help you understand what Science-Based Targets are, how to join the initiative, and why it should be on your agenda to help save our planet. You will also find out how Reegy's all-in-one SaaS-solution can streamline the entire process for you.
What is the Science-Based Targets Initiative (SBTi)?
Are you wondering how much your company's operations are contributing to climate change? And how much carbon do you need to reduce to truly make an impact? That's where the Science-Based Targets Initiative (SBTi) comes in!
The Science-Based Targets Initiative (SBTi) is a global partnership between different organizations that helps companies set targets to reduce their greenhouse gas emissions in line with the latest climate science. By setting these science-based targets, companies can align their emissions reduction efforts with the Paris Agreement's goal of limiting global warming to below 2°C above pre-industrial levels.
The Science-Based Targets Initiative sets guidelines for decarbonization targets to determine how much carbon reduction is enough and validates the targets submitted by companies.
It was launched in 2015 as a partnership between CDP, the United Nations Global Compact (UNGC), the World Resources Institute (WRI), and the World Wide Fund for Nature (WWF). Since its inception, more than 2,000 companies have joined the initiative and committed to Net Zero in the near future.
Organizations that wish to join the initiative must submit clear plans and strategies on how to reduce their scope 1, 2, and 3 GHG emissions and fulfill these as soon as possible.
Besides providing companies with a framework and methodology for setting science-based targets, the SBTi also provides guidance on how to track and report progress towards these targets.
Why are science-based targets (SBT) important?
Science-based targets help reduce industrial greenhouse gas emissions that are known to cause climate change and global warming. By following the guidelines of the SBTi, companies can be sure that their carbon reduction targets adhere to the newest climate science and make a difference.
Global emissions of greenhouse gases (GHGs), such as carbon dioxide and methane, are causing the Earth's temperature to rise, leading to a range of negative impacts on the environment, economy, and society. The Paris Agreement aims to limit the increase in global temperature to below 2°C, with efforts to limit the increase to 1.5°C.
If we want to keep our planet liveable for future generations, it is absolutely crucial that we keep global warming below these thresholds.
How does the Science-Based Targets Initiative work?
There are two types of science-based targets with different requirements and focuses:
Scope 1 and 2 targets
Scope 1 includes a company's direct emissions, while scope 2 covers indirect emissions from purchased energy, heat, and steam. Both are required.
Scope 1 and 2 targets focus on significant reductions in absolute emissions. For scope 1 this can be reductions from improved operations, lower-emitting vehicles, and low-carbon processes. For scope 2, you can set a target for obtaining electricity from renewables.
With Reegy's carbon accounting software, you can automatically track and measure your scope 1 & 2 from our extensive integrations.
Scope 3 targets
These targets focus on reducing a company's emissions that occur upstream or downstream in its value chain, such as emissions from raw materials production, transportation, and end-of-life treatment of products.
If scope 3 accounts for more than 40% of a company's emissions, these targets are required.
Setting these is where many companies struggle, but we'll try to shed some light here. There are different ways to set decarbonization targets for scope 3:
Absolute Targets to lower total scope 3 emissions by at least 4.2% each year for reaching the 1.5°C goal set by the Paris Agreement. We recommend setting at least 6-8% targets though.
Emissions Intensity Targets help reduce emissions per scope 3 category and relative to specific KPIs. This could be physical (goods created) or economic (revenue-related).
Supplier or Customer Engagement Targets commit to certain numbers of percentages of others in a company's supply chain to submit their own SBTs.
You can select one overall or several different targets, depending on your type of business and scope 3 emissions you generate.
Scope 3 emissions along the entire value chain usually account for the majority of a company's GHG emissions and are the hardest to track. With our Value Chain Emissions module, we help you automate this process!
How to create a science-based target?
The SBTi lays out a clear framework and methodology for setting and submitting science-based targets.
It involves five steps commit, develop, submit, communicate, and disclose. Small and Medium-Sized Enterprises (SMEs) under 500 employees can skip the first two for the streamlined process.
#1 – Commit
Register & publically commit to the SBTi
In the first step, you submit a letter of intent to commit to Net Zero and set an ambitious 1.5°C science-based target within 24 months.
Your company will then be listed as "Committed" on the SBTi website, as well as the We Mean Business site.
#2 – Develop
Develop your science-based targets within 24 months
Within 24 months after your commitment letter, you have to develop a clear plan on how much carbon you will reduce and by when you plan on reaching your targets.
Use our AI-powered and human-verified decarbonization strategies included in our Reegy Eco Hub to develop your data-based science-based target.
#3 – Submit
After submission, your target is reviewed and approved by the SBTi
There are Near-term and Net Zero target submissions and validation usually takes about 30 days.
Sometimes, this step involves a revision and resubmission before the final
Good to know: Companies from developing countries may be exempt from validation service fees.
#4 – Communicate
Inform your stakeholders of your target
Now that you have an approved SBT, it's time to tell your stakeholders, customers, and network all about it.
This is also the time to really step up your decarbonization efforts. Invest in renewable energy, implement low carbon solutions into your products, and check your supply chain network for poor carbon performances.
#5 – Disclose
Report & Disclose your progress
Now that you have comitted to and started your Net Zero journey, you have to disclose your progress.
There are various carbon accounting frameworks and the ones we recommend at Reegy are TCFD as proposed by CDP, GRI, and others. Our carbon disclosure module helps you draft and publish regulatory-grade carbon reports on the click of a button.
Publish the results in your annual reports, marketing campaigns, and any other appropriate stakeholder communications.
Reegy also provides you with an integrated, automatic marketing module that creates custom landing pages and marketing materials from your data and SBTi commitments.
Commit to Net Zero and a Science-Based Target
Hopefully, this gives you a good overview of the Science-Based Target Inititative and why it matters for your decarbonization efforts.
The best part is: Everyone wins!
The planet because your company can effectively lower carbon reductions. Your customers because you offer low-carbon products and services to them. And last but not least, your company because you can do good while rasing brany loyalty among your customers and investors.
Contact us and let's work together to start your Net Zero journey together!
©2023 Reegy. All rights reserved. The content presented here is the exclusive property of Reegy and may not be copied or distributed, in whole or in part, without the express permission of Reegy.
Reegy is a complete software solution for ESG & Carbon Footprint Management. Our Reegy Eco Hub enables enterprises, financial institutions and governmental organizations to manage their climate action in one central location along the entire value chain. Track, measure, reduce, and offset your carbon emissions, disclose them to regulators, stakeholders, and customers and lead your company to Net Zero on autopilot!